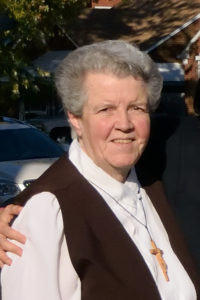 It is with deep sadness that we must tell you that our Executive Director, Sister Diane Masson, CCSF has passed away on Tuesday evening.  Early on, Sister Diane recognized the need for a sheltered, safe environment for pregnant teens and helped to initiate the effort to establish Gianna House.  Her cheerful smile, dedication, tireless efforts will be sorely missed.  We extend our sympathies and prayers to her family.
funeral arrangements are as follows:
Sister Diane's wake and funeral will be held at the Felician Motherhouse, 36800 Schoolcraft, Livonia, MI 48150. If you're not familiar with the area, Madonna University sits on the same grounds. You can reach the Motherhouse from Schoolcraft via Bridget Dr., or from Levan or Newburgh via Chalice Dr. The Motherhouse is one long building but it's pretty well signed as to where the various rooms are.      
 Sunday, January 29
        1:00 to 7:00 p.m.   Visitation in Motherhouse Parlor
Monday, January 30
        9:00-10:00am Viewing  in the Motherhouse Chapel
       10:00 Prayer Service in the Motherhouse Chapel
       10:30 Mass of Resurrection in the Motherhouse Chapel
Luncheon served immediately after the Mass.
In lieu of flowers, Sr. Diane's family is requesting that memorials in Sr. Diane's name be made to Gianna House online at www.giannahouse.org or sent to Gianna House, 21357 Redmond, Eastpointe, MI  48021.
Thank you,
Gianna House Board of Directors